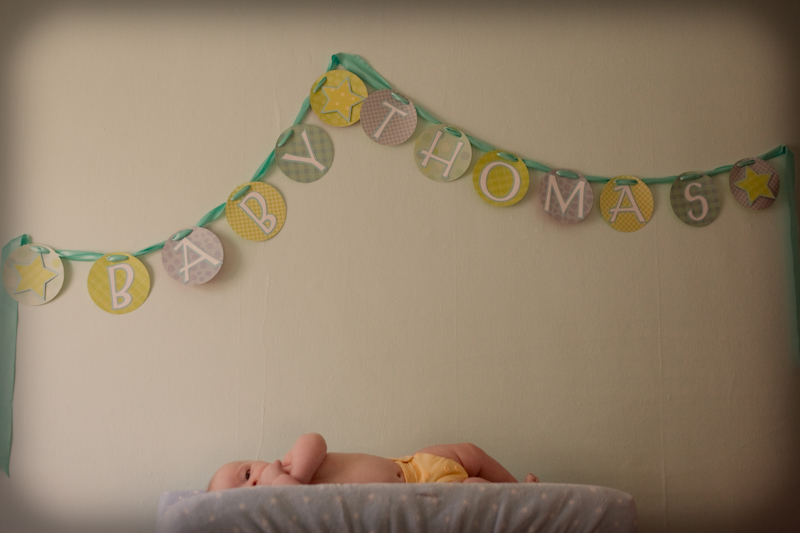 Dear Friends Having Babies for the First Time,
Isn't it so exciting?  And overwhelming too!  There are so many things you need, so many more you don't actually need and will just clutter up your house, and a few you would never buy on your own but will be so glad someone else does.  I'm six months into baby numero dos.  Let me help you wade through these baby-accessory waters!
First of all, there are a few things you absolutely need to have, and you already know this because you've read all the mom lists and have checked them twice.  But since I love to make lists, here you go.  You're welcome! 🙂
1. A good car seat.  Here's my two cents on this issue.  We ended up with the Chicco Keyfit 30 system because someone gifted it to us.  And I really like it!  But I will say, I like the stroller, but rarely used or needed the feature that allows the car seat to fit into the stroller.  The stroller itself leans back far enough that it never seemed necessary, and having the car seat in it just seemed bulky.  But that might've just been me!  Now, another thought I had recently as my 6-month-old hits the 20-lb mark and is already stretching her little toes to the end of that car seat: I haven't had a baby so far who looks like they'll make it much past 8 months in that thing.  It says it fits up to 30 lbs, and I believe them!  But I can't picture a baby who would be able to actually fit that long in the seat length-wise.  Maybe if you have a really fat one?  Anyway, it's a good car seat, but just prepare yourself that it won't get you through the long haul.  We had to get Judah a new seat at 8 months, and will most likely need to do the same with little Sar.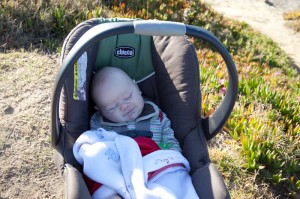 2. A crib.  Get one you like!  There are lots of options, from mini cribs (which is what we've used) to the kind that will keep transforming until your kid is in college.  If we knew we would be staying in one place forever and ever, we might just get one of those.  As it is, we've gone the Craigslist route and will be able to throw Judah's crib away once he's done with it without feeling any remorse.  It cost us $20, and squeaks when he moves, which sometimes wakes him up in the morning.  I won't miss that crib, but can't go without it!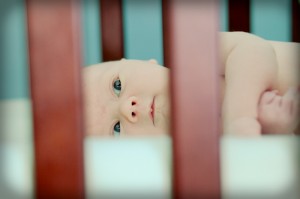 3. Changing table — I feel like this is optional.  Is it nice to have?  Sure.  If you will have a dedicated nursery for your babies, get one!  And if you can manage to match your crib/changing table/curtains/burp rags, go for it!  I'd be happy if I somehow fell into a situation like that.  We have a dresser that's the perfect height for a changing table, and even has a changing pad and soft cover on it, and we used it for a while!  But after a few months, I'd say about 98% of diaper changes happen on the floor.  So if you're on a budget and low on space, I think you can skip this one!
4. Clothes.  Women of all ages love to buy baby clothes!  So more than likely, you'll end up with way more than you need.  After being the happy recipient of some amazing hand-me-downs, and also having showers and gifts of clothing, I finally had to go through Judah's baby clothes boxes and make some cuts.  When it was all said and done, I limited myself to keeping 10 of each thing: 10 onesies, jammies, and pants in each size (0-3, 3-6, etc.).  For our babies and laundry rhythm, that has been plenty!
5. Pack-n-play — you just need one.  You do.  No matter where you live, it will happen one day that you want to be somewhere at bedtime, or want to go camping but don't want the baby to crawl out of your tent, and you will be happy you have one of these guys!  We have two, a mini and a regular size, and use both (because of our two-baby situation).  It doesn't need to match your travel system or your baby's favorite blanket, but you do need one.  Also, we kept Judah in one in our room for the first few weeks of his life.  It was really nice to have the kind with the bassinet and changing table options so we had a complete baby set-up in our room in the space of one small crib.
6. Baby carrier — this is a pretty personal item, because it's almost like a pair of jeans.  You want it to fit you well, and you will be wearing it almost every day for a while (unless you don't like carrying your baby.  But are there really people like that?  I guess I'm not.).  I have owned and used an Ergo, Baby Bjorn, Moby wrap, and sling, as well as a homemade wrap and Indonesian baby carrier.  Of those, I have used the Ergo almost exclusively.  The Bjorn, as much as I liked it because the baby can face forward or backward in the front position, was just not comfortable for my shoulders with my fat baby inside.  Unless the design has changed, there is simply not the support of an Ergo.  I like the Moby, but I did not love it quite enough to go through the wrapping effort each time.  With Sarala, I used it for a week or two, then moved on to the Ergo.  I will say, if I could go back in time, I would get the Lillebaby carrier instead of the Ergo, because it has the good features of both the Bjorn and Ergo.
7. Diapers and wipes.  This is an item for a longer post, because we use cloth diapers and I love it!  That was an intentional use of pronouns. 🙂  David and I both change the babies, so we both use the diapers, and I am the one who loves it because I am in the daily grind of cleaning and keeping up with the diapers, and am happy to be saving money and some nearby landfill in the process.  So more on that another place.  But wipes?  These are, hands-down, the best.  And I've tried them all!
8. Breast pump.  If you plan to breast feed, and you absolutely should unless there is a physical reason (either separation or actual body limitation), then you need one!  We love our Medela.  And as a result, we have used just about every bottle under the sun.  The result?  We like the basics, mostly because our babies have never required anything fancier of us.  They don't have colic or other feeding issues, and will drink anything we hand them.  That being said, they have seemed to enjoy the Dr. Brown's (we got the fancy kind with the glass bottles because I was just that way when I was making a baby registry for the first time, and someone indulged my craziness) and also the Tommee Tippee trial-sized one I got once in a mom-to-be goodie bag.
9.  Miscellaneous little necessities: baby wash, diaper ointment, pacifiers, bottles, nursing cover, burp cloths (the homemade ones from older women in your church are usually the very best!).
10.  The best diaper bag in the world.  It just is!  My fabulous, generous friend gave me this for my birthday, and it hasn't left my side since.  I will use it with every baby, and may just keep using it even after I don't need the changing pad attachment!  (I'll let you know. 😉 )  Reasons it's the best?  I love the color, which might seem unimportant until you realize you will see and wear this more often than any clothes in your closet.  Also it has great pockets, is soft so it can collapse or expand when stuffed full for traveling, and is still easy to carry even when it's packed to burst.  I love it!
Things you shouldn't buy for yourself, but will be so glad someone else did:
Aden + Anais bamboo muslin swaddling blanket — now, I'm not usually this kind of girl.  I keep things pretty simple, but let me tell you: someone gave me this blanket as a gift, and I have used it every single day since Sarala was born.  It has been a blanket, nursing cover, mosquito cover, tent, and burp rag.  And it is the softest blanket ever.  I am now gifting these to my friends having babies because I love my own so much!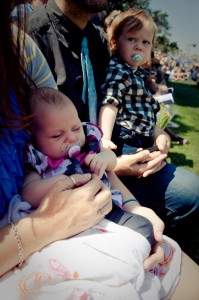 Sophie the Giraffe — this is another one like the muslin blanket.  I didn't know my babies needed one, and would never have bought it on my own.  BUT, we were gifted a Sophie (two, actually, and sadly we've managed to lose both of them 🙁 ), and she is a wonderful baby toy!  I would rather have a few toys the baby really likes than surround them with things they play with for a few seconds and move on.  Something about Sophie is really fun for the wee babes!
A Bumbo seat — this just isn't an absolute necessity, but it is really nice to have.  If you get the tray, too, then it's doubly nice.  I love having a place to put the baby when they can't sit up quite yet.  Or (even though this is against all the rules of Bumbo-use) it's nice to be able to have the baby join the family for dinner at the dinner table… or on the dinner table.  But remember, it is a Bumbo floor seat.  Just so we're clear. 😉