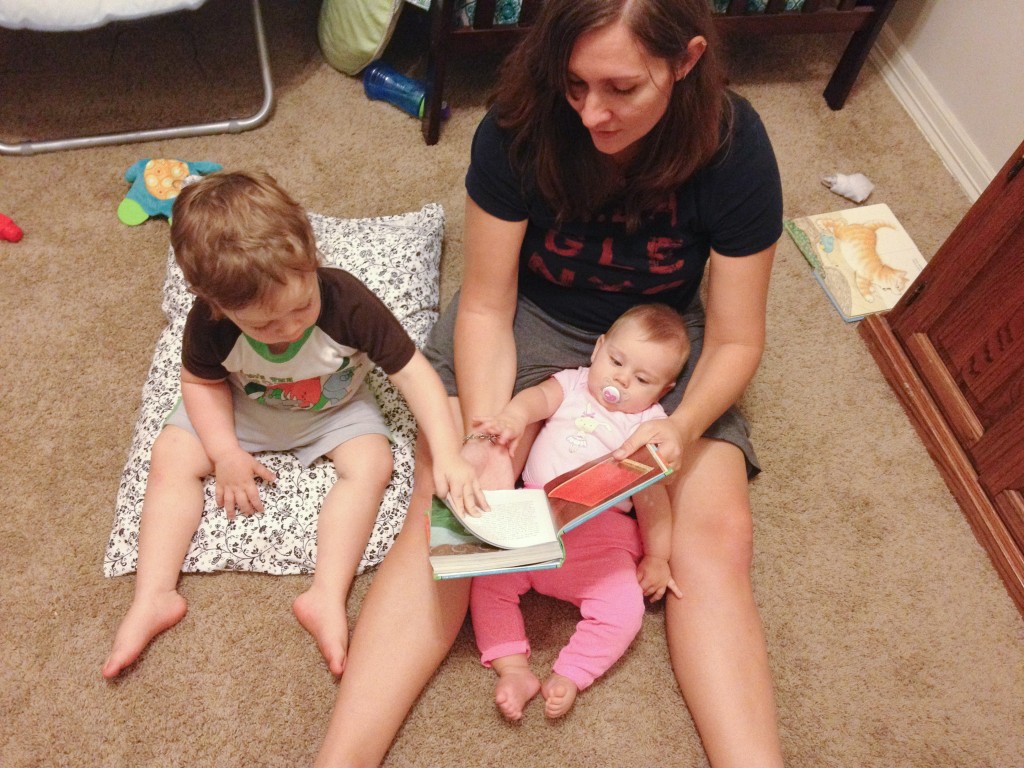 Suddenly, I am a mother.
I call the shots, make the grocery list, say "no" to Chicklets at the checkout counter.  I am a mother.
For lunch I eat whole wheat bread crusts with the shape of a dinosaur missing.  I peel mandarins and pull each section apart, even peel the pale fibers off so you'll like it better.  And then I find little orange segments in the toy baskets, squished under my feet before I sweep.  I am a mother.
I pat your soft bottom 273 times as I stare at your eyelids, which swing open and closed and open and closed until you give up.  I want to sleep, but do laundry instead.  I am a mother.
I pray on Wednesday that the trash truck will come while we're home the next day, because Thursday is trash day and you've waited for it all week long.  When I hear the sound of bagged garbage hitting metal, I grab your hand and we run for the door.  I am as excited as you are.  We sit on the grass and watch until the flashing lights round the corner.  I am a mother.
I practice animal sounds, leave dough on the spoon for you, make pizza because you finally figured out how to ask for it.  And then I realize later you meant "pretzel." (Oh well.)  I am a mother.
I say, "What do you say?" and wait for your "thank you."  I can't teach gratitude but I can teach you manners.  I am a mother.
I brush little teeth, tie little shoes, make little beds, encourage big dreams.  I clap when you push off the edge and go down the slide.  I am a mother.
I write your name on the card even though you've never seen what's inside (and I spent thirty minutes staring at tea sets and pet shops and little ponies trying to understand what a 3-year-old might be wishing for her birthday).  I am a mother.
I bake 45 cupcakes, wipe baseboards, twist streamers, blow balloons, invite chaos.  I tell myself I'll do less next year, but I won't.  I might even do more.  Because it's me trying to write "I love you," in the biggest font possible.  I am a mother.
I cried when I saw that an entire human had emerged from my body.  Not just a dream I had dreamed while resting my hand on the smooth arch of my own body.  You were separate, terrifying.  A crying baby.  My crying baby.  I said to my own mother, next to me,  "I can't do this!"  Because I felt it already, as soon as I saw you.  I knew you would wreck me.  Had already wrecked me.  I didn't belong to myself anymore.  I was a mother, your mother.